Karin Maack
Certified Translations
English - German - English
I declare that I am certified for translations from German to English and
from English to German by the Regierungspräsidium Karlsruhe
and sworn in by the president of the Landgericht Stuttgart.
I do certified translations of the following kind of documents:
certificate
certificate of death
certificate of marriage
document of adoption
employment reference
medical certificate
school report
certificate of birth
certificate of divorce
diploma
driving licence
letter of authority
proof of insurance
testament
Rates for certified translations
per line: € 1.00
(55 characters - incl. blank spaces -
of the target text according to Word)
For smaller translations, a minimum charge of € 30 will be applied.
Additional costs for certification per document: € 8.00
There are many different forms of documents. Lay out and type face of the translation should come as close as possible to that of the source text. This way it is far easier to compare the source text with its translation.
For documents like the following examples, there can be more work necessary to format than to translate them. For that reason I include blank spaces necessary for the lay out in my fee calculation.
2 Beispiele englischsprachiger Personenstandsurkunden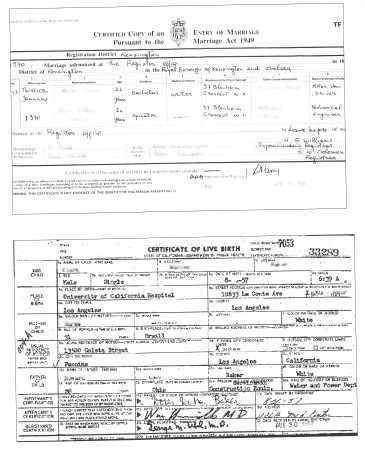 Information about the certification
of official records and
public documents:
Foreign official documents usually have to be translated for German authorities. This translation should be written by a certified and sworn translator. You should ask the German authority that requires the document whether the authenticity of the foreign document has to be legalized by apostille by an authority of the issuing state first.
You may find further information here: